THOMAS WILKERSON AND CAROLINE "CARRIE" KELLEY
My Great Grandfather Thomas Wilkerson was born in 1865 in Clarksville, Ohio and died in 1933 at the age 67 years 5 months.
I have already pointed out that Clarksville, although in Clinton County, is very close to Spring Hill.  Many Wilkersons were born, married and buried there.  Below is a picture of downtown Clarksville and Spring Hill is just behind the hills in the distance.
Thomas was John and Ann's youngest child. At the age of 21 he married 19 year old Caroline "Carrie" Marion Kelley on December 20, 1886 in Union Star, Missouri. The Kelleys had moved from Henry County, Indiana.
Thomas was a farmer and then a merchant. He owned a hardware store in Union Star, Missouri for many years.
THE HARDWARE STORES
By Mrs. Bruce Wilkerson, History of Polk Township, Missouri
W. E. Piper and Jim McClain had put in a hardware stock and tin shop next to the Simpson Store building and in a few years erected a new structure. Later James Thomas and Henry Sharp bought out McClain's interest, and later on they sold out to Tom Wilkerson, and D. O. Robison. John and Frank Farrell, in 1905, built two rooms joining west on this store and bought an interest with Robison and Wilkerson. In 1907, Sanford Wilkerson moved to Union Star from his farm near Savannah and bought the entire stock of hardware, furniture and implement business. Mrs. Sarah McQuinn purchased the building. In 1921, Mr. Wilkerson moved the hardware and furniture stock to the Kimberlin building on the north side of the street. In 1923 he built the west room on the corner which is the present hardware store. His son, Bruce, assumed management in 1924, and ran the business until 1966. In 1944 the partition between the two rooms was removed making one large store room. Mr. and Mrs. Floyd Hutchcraft bought the stock in 1966 and still operate under the title of "Wilkerson Hardware".
Below is a picture with Tom and Sanford in front of the hardware store.
Thomas Wilkerson died in 1933 in Union Star, Missouri.
"THOMAS WILKERSON FORMER RESIDENT DIES" 1-11-1933
Thomas Wilkerson thirty years a merchant in Union Star, died at 1:00 o'clock Wednesday afternoon at his home from the effects of an apoplectic stroke suffered last Thursday, from which he had never regained consciousness. Funeral services were held at 1 o'clock Saturday afternoon at the Christian Church conducted by the Rev. S. Riggs, assisted by Rev. J.C. Bigbee and Rev. J. B. Wairafen. Burial was in Savannah.
Mr. Wilkerson was the youngest of a family of twelve brothers and sisters, and the fourth of the family to have died within a year. John Wilkerson of Mt. Ayr, Iowa, Mrs. James Ballas of St. Joseph and Albert Wilkerson of Union Star, brothers and sister of Tom Wilkerson all died in 1932, and another brother, Sanford Wilkerson, Union Star hardware merchant, died in 1932. Of the family of twelve the following three survive: Vince Wilkerson, Union Star; Mrs. J. Q. Wells, Helena; and Mrs. John Osborn of Cosby. This was an Andrew county family of clean lives of the finest of men and women, and Thomas as one of them. Andrew County is honored by their living here.
Mr. Wilkerson was born in 1865 in Warren County, Ohio, and his parents brought him to Missouri when he was a baby. He was reared near Savannah, and there he married Miss Carrie Kelley, who, with five of their seven children, survives. Mr. Wilkerson moved to Union Star in 1900 to engage in the hardware business, in which he continued until about eight years ago, since which time he has been in the grocery business.
The surviving children are: Mrs. Charles Pemberton, Billings, Mont.; Mrs. Clarence Smoot and Mrs. Marvin Gibbons of St. Joseph and Mrs. Tom Smoot and Lloyd Wilkerson of Union Star. Also surviving are six grandchildren and one great-grandchild. Two children, Alva and Anna, preceded their father in death."
Caroline "Carrie" Kelley was born November 20, 1867 in Marion County, Indiana. Here is a picture of her with her twin granddaughters – Donna (my Mother) and Dorothy Pemberton. The picture must have been taken in the late 1930's.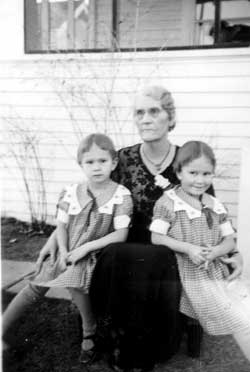 Her Grandfather Samuel Kelley was an early settler in Grant County, Indiana.  Her father Abraham Kelley, Samuel's eighth son, was a Civil War Veteran.  He married Charity Echelbarger in 1866 in Grant County, Indiana.  Abraham and Charity had nine children before she died in 1881 of which Caroline was the oldest.  Sometime between 1881 when Charity died and 1887 Abraham and his nine children moved from Grant County, Indiana to Andrew County, Missouri.  I suspect he moved to Missouri because his brother had moved there.  In 1887 Abraham married Anna Marie Bouman in Andrew County, Missouri.  By 1887 Carrie had already married Thomas Wilkerson so she must have married him within a couple years after they moved to Andrew County.  Abraham, Anna and the seven younger children then moved to San Diego, California in 1906.  Abraham died December 21, 1921. Here is a picture of his gravestone in Mt. Hope Cemetery, San Diego, California.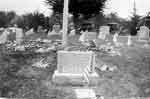 Caroline stayed in Missouri and Albert the oldest brother went back to Indiana. Caroline died October 25, 1953 in Union Star, Missouri.