PRIEST
Saryelen "Ellen" Priest DeYoung
My paternal grandmother's name was Saryelen Priest. She must have hated the name Sary or Sarah, so she went by Ellen. In fact, it wasn't until after she died and I started my research that any of us knew her real first name was Saryelen.  My Aunt Anna Frances thought her first name was Sarah because her tombstone says S. Ellen DeYoung.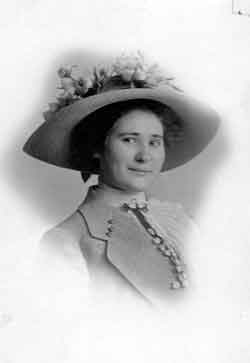 Saryelen (Ellen) Priest DeYoung about 1910 – 1915.  She loved hats.
Saryelen "Ellen" Priest was born in 1893 in Golden, Missouri which is right across the Missouri-Arkansas border from where she grew up in Green Forest, Arkansas which is in the Ozarks. After she left home she went by Ellen. Both sides of Ellen's family fought in the Revolutionary War.  After the Civil War her Father Monteville (which got changed to Monterville because I suspect that's how they pronounced it in Arkansas)  Priest moved from Kentucky to Missouri where his brother and many neighbors had moved to and was a farmer and occasionally worked for the railroad.
At eighteen she asked her father if she could go to Washington and work in the logging camps.  She told my Father that she saw no future for herself in Arkansas living in the Ozarks eeking out a living growing tomatoes. Apparently Monterville had been to Spokane (probably through working for the railroad) and agreed to let her go.  In addition she had Priest cousins (Abner and Charles) working in the logging camps in Lebam, Washington and her other cousins Keenis also lived close by in Morton and Chehalis Washington. So she had family out here to watch over her. About 1911 she got on the train either by herself or with her cousin Sherman and came west. She got a job working in the logging camps as a cook. Here is a picture of an early logging camp in Washington.  This must have been very similar to what she encountered upon reaching Washington.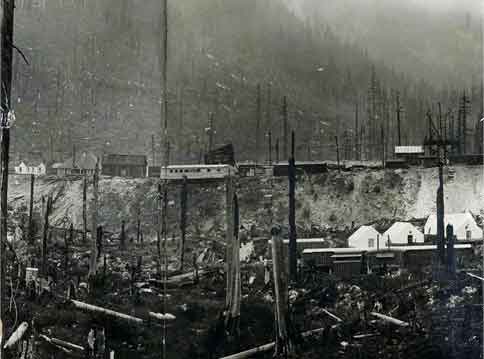 When asked about how it was working in the logging camps she said it really wasn't a big deal and "they were all nice boys." How nice all the "boys" were is questionable – she was a very gutsy lady who always stood up for herself.  Here is a picture of a logging camp's workers much like she worked in.  I wonder if she also wore a white dress among all that dirt! 
She went to work in Lebam, WA which is half way between Centralia/Chehalis and Raymond. This is a map of the logging camps in the area in 1915 starting at Raymond and ending at Chehalis.  LaBam is half way down the list down the list with a populatiohn of 250.  
She worked there for the Quinault Logging Company. Apparently the logging camps weren't as desirable as she let on because after living in Lebam for about a year, the Painter Family (her cousin Abner Priest wife's family) who lived in Auburn (an area next to Kent and a suburb of Seattle) needed help. She moved north and lived with them as a domestic for awhile and then went to live with the Alban family in Kent also as a domestic. The Alban's lived next door to Menno (Harry) and Ytje (Ida) de Jong>DeYoung and their son Hans (John). It wasn't too long before she married John DeYoung August 15, 1913. To learn more about Ellen's growing up go to th page on Monterville's Family Page and to learn more about John and her family please go to their DeYoung Family page.
Introduction to the Priest Family
Of all my ancestors the Priest's have proved to the the most elusive and rewarding. If it hadn't been for my cousin Terri finding the family record that my Grandmother Saryelen "Ellen" Priest DeYoung had sent away for that included her siblings and the prior generation of Priest's, I don't know if Iwould have ever made the connection between Green Forest, Arkansas and Floyd County, Kentucky where the Priest's came from. Compounding the lack of information we had about the Priest's was the fact my Grandmother had written in her Bible that her paternal grandmother was Matilda Blair, when in fact it was Mahala (Jane) James. The family record clearly states her grandparents are John and Mahala Priest, so I still have no idea who Matilda Blair was and why Grandmother wrote what she did.  There was a Matilda Spradlin Blair living in Floyd County between 1820 and 1880.  Was this who she thought was her Grandmother?  What is even more ironic is that I have a picture (below) of Mahala (Jane) James that my Grandmother had.

John Priest's signature 1850 at Abner James Trial
John Priest probably in the 1860's or 1870's.   Mahala James Priest probably in the 1860's or 1870's.
My 2nd great grandfather on my Father's maternal side – John Priest – just seems to have appeared from no where in 1825 in Pike County, Kentucky right on the Floyd County boarder.  There are family stories and antidodal evidence, but no hard facts, that we are related to the Preece family and that we came from Virginia and the Preece family from Martin County, Kentucky.  All of this led me down the path of the Rees Prees family from Philadelphia who migrated to Pennsylvania and then to Washington County, Virginia where Richard Lincoln Priest was born.  He ended up in Floyd County where his son William Martin married Mary Elizabeth Giddens.  Because William and Mary lived on Brusy Creek next to Samuel James that further strengthened my feeling I was connected to this family.
Finally, if you look at the picture of William Martin Priest and John Priest there is more than a strong resemblance.  The high cheekbones and thin face.  The same mouth.  This is not a coincidence.
After a lot of thought, however, I have decided to split my Preece – Priest family into two sections.  I still think we are related, but I am not quite sure how. I was a lot more confident in the relationship until DNA testing proved my male Priest descendent of John Priest is not related to Rees Preece.  In fact, the results are not even close.  So I am going to put the Preece research on a seperate section under the Price family.  I have spent a lot of time on the resesarch so I hate to just throw it away.  I just love DNA testing (even though it is frustrating when your ancestors don't match anyone as is the case in most of my families), it helps put my research into perspective and prove as much as to what is wrong as right. I have had one descendant of John Priest have his DNA tested.  He doesn't match anyone with more than 12 markers.  I am definitely going to have to wait until more people are tested to solve this mystery.  For a more thorough explanation of DNA testing you can go to www.familytreedna.com.
Descendants of Reece Prees DNA
13/24/14/10/12-14/12/12/12/13/13/29/17/10-10/11/11/25/15/18/29/15-16-16-17/12/10/19-23/15/16/19/17/37-38/12/12
Descendants of John Priest DNA
12/24/14/11/12-14/12/12/12/13/13/29/18/9-9/11/12/25/15/19/30/14-14-15-15/11/11/19-23/16/15/18/17/36-37/12/12
In fact my descendant's DNA is not close to anyone in the Preece/Priest/Price family.   My non DNA evidence is that William Priest (who supposedly is a descendant of Rees Prees) is living next to Samuel James on Brushy Creek in the 1830's when John Priest was growing up.  If you look below at John Priest's picture, it looks very similar to William Priest's picture next to him. John Priest, my second great grandfather is on the left and William Priest and Mary Elizabeth Giddens is on the right.  The resemblance is very strong.  Look at the high cheek bones, thin face, structure of the forehead, and the lips.  These two men are related.
My conclusion (without proof) is that a Priest female relation of William Priest had an illegitimate child and then William and Mary Elizabeth Giddens raised him on Brushy Creek.  This would explain why the Y-DNA does not match the Priest family and why John Priest stayed in Kentucky when William and Mary Elizabeth moved to Illinois (and then came back to Kentucky) and then later moved to Texas.
I think John Priest is related to and probably was raised by William Martin Priest and Mary Elizabeth Giddens based on the following analysis. I know from John Priest's civil war records and from the Family Record that he was born in Pike County, Kentucky in 1825. It is important to remember that the area of Johns Creek that the James', Priest's, and McCoy's lived is on the right on boarder between Floyd, Pike and Martin Counties. He could have easily lived in Floyd County and been born in Pike County and Pikesville the county seat of Pike County was much closer than Prestonsburg the county seat of Floyd County to where they lived. Below is a map that shows the relationship between Floyd, Martin and Pike Counties and where the Priest's and James's lived.
 Floyd County was established in 1800, Pike County was established in 1821 from part of Floyd County, and Martin County was established in 1870 from part of Floyd, Pike, Lawrence and Johnson Counties. I find it interesting that it was almost a gerrymandering that kept them in Floyd County.
I know that in the 1810 census Richard and Ruel Priest were living in Floyd County (It is alphabetical so you can't tell where they lived). No Priests lived in the the County for the 1820 census. http://search.ancestry.com/iexec?htx=view&r=0&dbid=7613&iid=4433225_00115&fn=Richard&ln=Pries&st=r&ssrc=&pid=558793
In the 1820 Census there is no Pries, Priest or Preece living on Johns or Brushy Creeks. Pike and Martin Counties had not been formed yet and were still part of Floyd County.
Then Alexander Boone Priest (Preece) was living in Floyd County in 1830 census in the Johns Creek area next to the McGuires and the Clays. Samuel James is three names away on the next page. http://search.ancestry.com/Browse/view.aspx?dbid=8058&path=Kentucky.Floyd.Not+Stated.21&sid=&gskw=Alexander+B+Priest&cr=1 Pike County was formed in 1822 but Martin County was still part of Floyd County until 1870.
Alexander Boone Preece later moved to Martin County area where many of his descendants still live today. In 1840 William Priest or Preece was living in Floyd County between Pernina James, William McCoy, and Abner James. (To further complicate my search William was left out of all the 1840 Census indexes, but if you look at the actual census document – there he is.) http://search.ancestry.com/iexec?htx=View&r=an&dbid=8057&iid=4409670_00509&fn=Peter&ln=Clay&st=r&ssrc=&pid=1258419
Then my John shows up in the 1850 census in Johns Creek in the same area between William McCoy and John Roop and close to Pernina and Abner James, but no Richard, Ruel, William or Alexander Priest in the Floyd or Pike County Census. Where was the connection? The Priests all seem to be in the Brushy Creek tributory of Johns Creek area, but the names continue to change.
Also complicating the issue is that Priest is spelled Priest or Preece or Prees depending on where you live. In Floyd County it was generally spelled Priest. In Martin County it was spelled Preece. In Texas it was spelled Preece and generally in Virginia it was spelled Priest. In Washington where I live it is pronounced Priest. You can hear the "t". In Kentucky with the lovely slight southern drawl it is pronounced Preece. No "t". In talking with Priest family decendants who grew up in the area, they were told that they were related to the Preeces from Martin County, but they don't know how.
Hopefully time will solve this mystery.