THOMAS WILLKERSON AND CAROLINE "CARRIE" KELLEY'S CHILDREN
Thomas and Carrie had seven children: Kate (my grandmother), Anna, Mary Atha, Lena, Mildred, James Alva, Lloyd.
This picture of the family as taken around 1905 – Front row from left: Mary Atha, Kate, Lloyd, Mildred and Lena. Back row from left: Anna Mae, Carolyn and Thomas. James Alva has already died in 1901 when he was six years old.
My Grandmother Kate Wilkerson was the oldest child.  I will go into more detail about her life in the next section.  She was born September 26, 1887 in DeKalb County, Missouri.  She died May 26, 1981 at 94 in Bothell, Washington.  She was the most wonderful grandmother a girl could have.
The next oldest daughter was Anna Mae "Annie".  Annie was born in July 1889 and died in 1920 at the age of 31. She never married.
Here is a picture of Kate and with her sister Annie.  It must have been taken in the late 1890's.
Here is a picture of Annie and with of her friends.  I believe Annie is third from the left.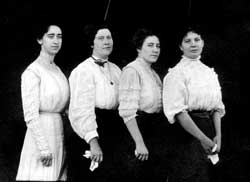 On July 19, 1892 Mary Atha "Atha" joined the family. She married Thomas Smoot and lived her whole life around Union Star, Missouri. She died May 5, 1983.
A year later in October 1893 another daughter Lena Leota Wilkerson was born. She married Thomas Smoot's brother Clarence. She and Clarence had two daughters: Marguarite and Helen "Bernice". Her obituary stated that she "Died at 84 after a one-year illness. A native of Union Star, Mrs. Smoot lived in the St. Joseph area since 1929. She was a retired clerk for the United Department Store and a member of the First Christian Church of St. Joseph."
Finally in November 1895 a boy was added to the family – James Alva "Alva". Unfortunately Alva died when he was six in 1901. I don't know what he died of.
Mildred Wilkerson was born in 1898. She married Marvin Gibbons and they had two daughters Eugenia and Ethelda.
Here is a picture of Eugenia and Ethelda.
Here are the girls with their grandparents Tom and Caroline Kelley Wilkerson.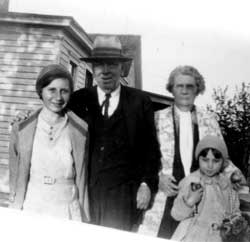 Finally in 1902 the family was complete when Thomas Lloyd "Lloyd" Wilkerson was born.
Lloyd married Verna Swink in 1930 and they had a daughter Gayle.  Lloyd spent his entire life in Union Star and died November 8, 1963.